Thanks to the incredibly generous community here and the support of the biology department here at Middleton High School, I have the chance to set up a reef tank in one of our biology classrooms, where it can be seen in class and in the hallway! I will be using this thread as a way to make some updates and keep track of the build as we move forward, but heres whats going on for now!
Current tank shot: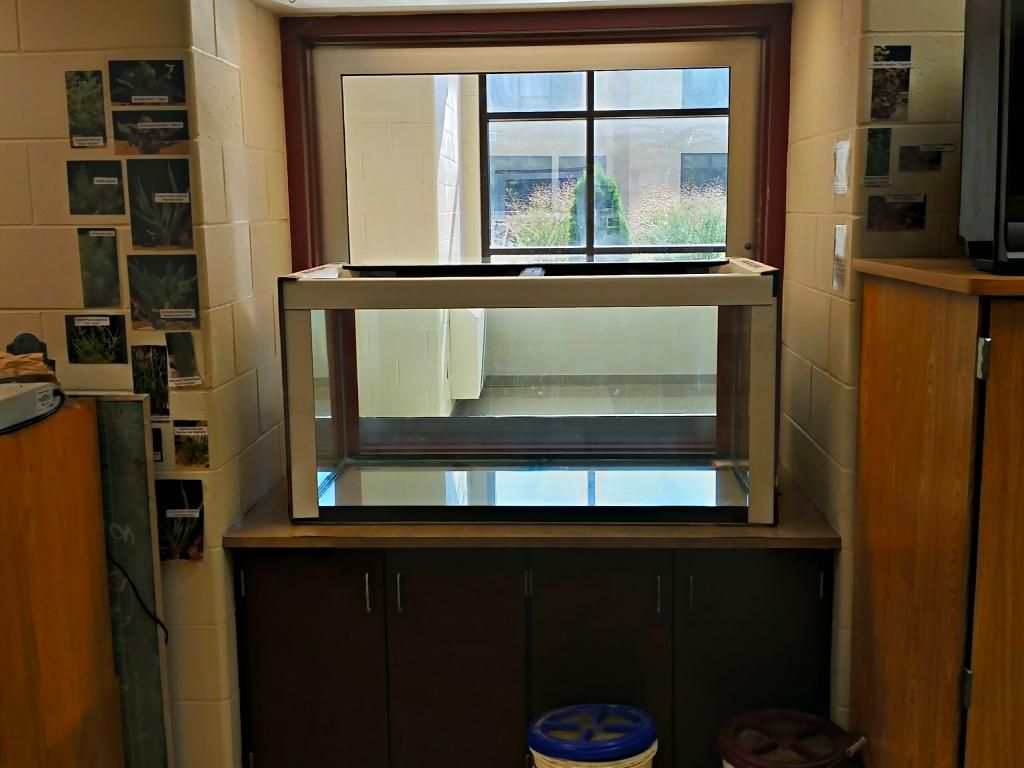 Right now we are in the process of figuring out something to place inbetween the counter and stand to raise it up. Once I get a chance to come in and work in the shop I should have a good way to raise up the tank so that it no longer sits behind the metal window frame which looses a lot of the look from the hall outside (a common meeting area for students).
As of now I do not plan to drill unless someone can get back to me about a hole saw, I dont have one unfortunately and am not comfortable drilling the schools tank with a bunch of dremel bits.
Equipment:
2x250w MH 14k
2x54w T8 actinic (using what we have for now)
2x tunze nanostreams (what a score! Someone shelled out in the past and I found these in the storage room)
parts of a canister filter, mostly missing
HoB filter (to become a fuge I think unless I get someone with a hole saw to help me drill the tank
)
Heaters
Tons of likely expired test kits
parts of a reef controller
I also have a boat load of filter pads for HoB filters someone donated a few years back to use on the tank, so I will dig up an old HoB filter
Some kind of skimmer that I need to jurry rig into the tank somehow. Right now thinking of doing an "In tank" sump by building a box and silicone it to one of the sides facing a wall.
Some dry rock
Live sand
Live rock (to be picked up soon thanks to some awesome local reefers!)
Stocking plans:
Going to keep it basic, with a decent amount of fleshy corals that really show off how alive they are. I dont have the resources or interest to do SPS!
Basic LPS (Frogspawn, duncans, etc)
Monti caps
zoas (so easy to bring in a few polyps and let them grow)
softies, this wouldnt be a bad situation for a big kenya tree or even an outcropping of that horrid weed xenia
Display macro, maybe some feather algae since I cant do a refugium above the tank and have no way to drill it.
So far we are still gathering everything together, salts ordered and we have a big RO unit here at the school. Once we get the booster seat built for the tank I should be able to get some sand, rock and water in and let the cycle begin! My gameplan is to let it cycle for a while before adding some basic softies as a trial run. I will certainly be looking for some advice on scaping since I would like the tank to be primarily enjoyed from the hallway side (opposite side of the picture) but also be enjoyable from the classroom.