Well, we're back at it again. After moving my 180 gallon from my old house I've started working on the new room in the new house. The basement is unfinished right now. So, naturally before actually finishing the useful part of the basement I'm making room for the tank! It's going to be viewed from two sides. From the front you'll see it from the "theater room" then on the skinny side I'll have a bar and while you sit there you can see in.
My biggest worry was evaporation and keeping the moisture away from the rest of the house. I'm using all green board for moisture resistance and I'll put a vapor barrior on the inside of the room to trap the air. I have a humidity controlled vent that will turn a fan on when the moisture reaches whatever relative humidity I decide. This was important because my furnance is in the basement. My last house the tank was also located where the furnace was and I ran into mold problems because my furnace was pumping all the moisture into the rest of the house. Hopefully this elminates that.
So, onto pictures, I've been at it for two weekends now:
Before (plumbing already in which I had to move to make room for the back wall)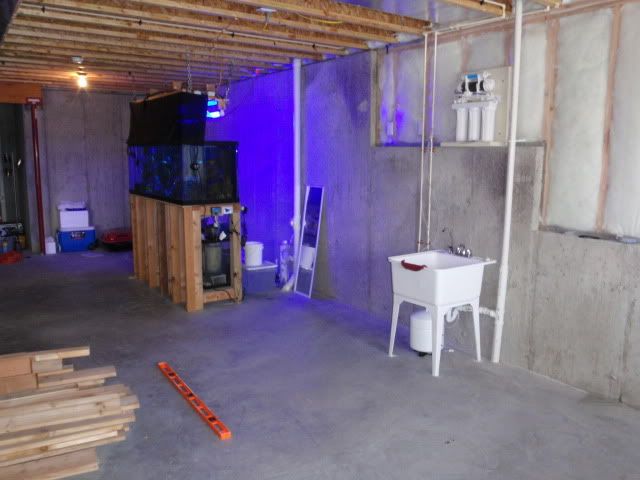 Rear framing
Dad Measuring for floorplates
More walls
Almost there with the framing
Framing done w/ me
This weekend I hung drywall on the exterior and got rough electrical in. So, now you can really see it take shape. To the left where my tank is now is roughly where the bar area will be. My goal is to have a "man" basement. To my surprise the wife is ok with all of this so far.
1 more from the front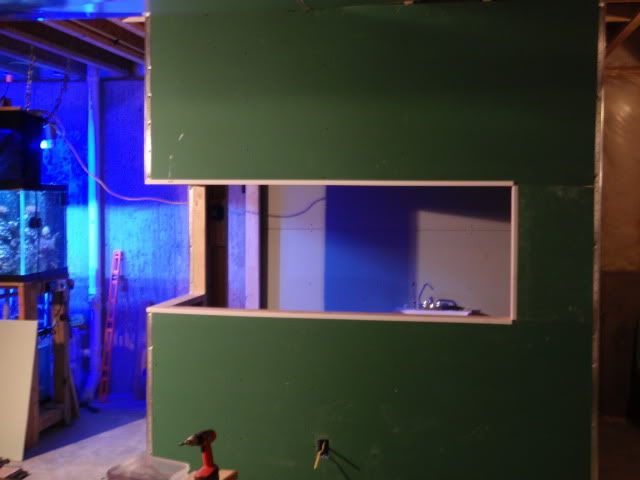 I'd guess I'll have another solid month or more before the tank can go in. I'm going to replace my current 180 gallon with a new one so I can coustomize my own overflow box. I want to have an "island" of rocks on the left of the tank where you can see in front and back of them from the bar area to see all the way to the other side of the tank. So, if anyone knows of somewhere they sell 180 gallons w/out overflows for cheap let me know!
Thanks for looking, more to come.
Andrew