After going through the whole business thing with coral...we have decided to shut it down. We just moved and are changing our ways of thinking. Family comes first salt water is a fun second!! We are doing this so that having saltwater stays fun and not full of frustration in trying to make a buck. Having fun is what this is all about....RIGHT??
So with that said...This is the FINAL BUILD! No upgrading to larger tanks...no down grading to smaller tanks...and no adding more tanks....this is it! All my knowledge and skills will go into this tank!
Back when we started into saltwater we had a 75galRR...every since we traded it for a 125 tank and stand...we have missed its size. Don't get me wrong...the 125 was awesome but still missed having a 4' tank.
AND SO IT BEGINS...
DRILL IT!!!!
A single 1.5" hole is drilled for the overflow off center so that i may unblock it easy if i need to.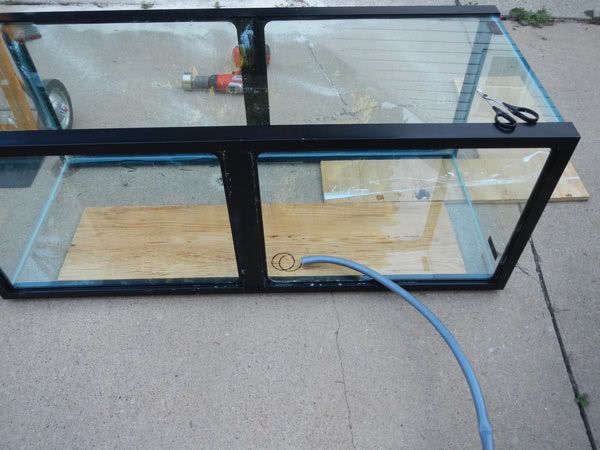 Next i need to do the overflow...now here is where i will toss you for a loop...NO FOAM THIS TIME!? Thats right...no foam...decided to put my job to work...(just me behind the bosses back..lol). I run a small cnc at work about 1/2 of my shift...well i decided to improve on what hardly no one has thought of improving on before. Yep thats the overflow box it self. Granted there has ben few improvements but none like this.
Here is the front with the top brace (not the improvement) bottom and sides all attached together.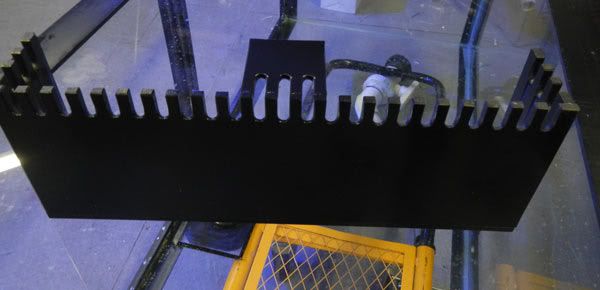 Now here is where the improvement is...most of us know how water works.....it likes to stick to what its flowing over but when there is a sharp change in direction going down it will let go and fall instead of flow over. When it falls it will crash and A. make noise & B. make bubbles. Well with us wanting almost no noise with this tank we needed to change that. (bubbles are always bad) So when i ran this i made the inside of the overflow area, coming from where the water will go, CURVED and SLOPED! That way the water can stick to the overflow as it goes down the inside of it so it will not splash.
Next i made a back plate to glue it to....but i had to attach the plate to the tank first or i would not have been able to put the 1.5" bulkhead through it. Silicone away and clamped it on with the bulk head so i could get a great water tight seal. Of course you know whats next....I attached the overflow box to the back plate..
PHASE 2..
Start building the stand.
Well i had a pile of tile that i reclaimed off the 125 stand we had. I wanted to reuse it BAD!!! so came up with something not seen by me before. First i needed to build the main part of it.
Now the color of the stand is also something i did long time ago with a fresh water stand i did. I used these 3 things...can you put it together on what and how i did it??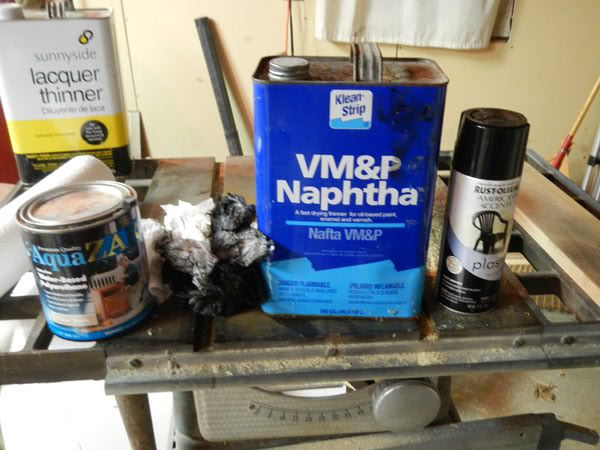 I didnt think so...LOL!!
Here is what you need to do. First put some naptha on a paper towel...not to much, dont want it running off it. Second spray some black spray paint on a small section of the wood about 2-3 feet long...count to 5 then start to wipe it off with the naptha towel...basically your thinning the spray paint down so it can soak into the wood like a stain. You may use less naptha for a darker effect or vice versa. After you do all your wood spread a thin layer of water based POLY over it.
Results as follows on pulper...