Hey everyone,
This holiday season has been particularly special for my wife and I as we discovered that we are expecting a new baby!
This has put us in a bit of a bind with our 2 pet cats. My wife has allergies to the kittys which have always been controlled with medications. It turns out her allergist is recommending she drop all medications during her pregnancy.
We have decided to try and find new homes for the cats. They are both males. Clover was a stray. We've had him since he was only a few weeks old. He has an adorable personality and is very friendly with both cats and dogs. He is declawed and neutered. He has had regular checkups at the vet and is in great health. Clover is about 8 or 9 months old. He is black, brown, cream and white and very stripy. He would be a great cat to add to a family as he is very social.
The other kitty is a Flame Point Himilayan. He is neutered also. He does not use his claws at all and still has them. He would probably do best in a household that is a bit on the quiet side. He has coexisted with dogs and another cat for most of his life. Peaches is around 2 years old. Someone is currently interested in providing a new home for Peaches but has not commited yet. We will know by the weekend.
If anyone is interested in a new kitty let me know! Both cats are in great health and sweethearts in their own way.
This is Clover. Hes a real sweet guy.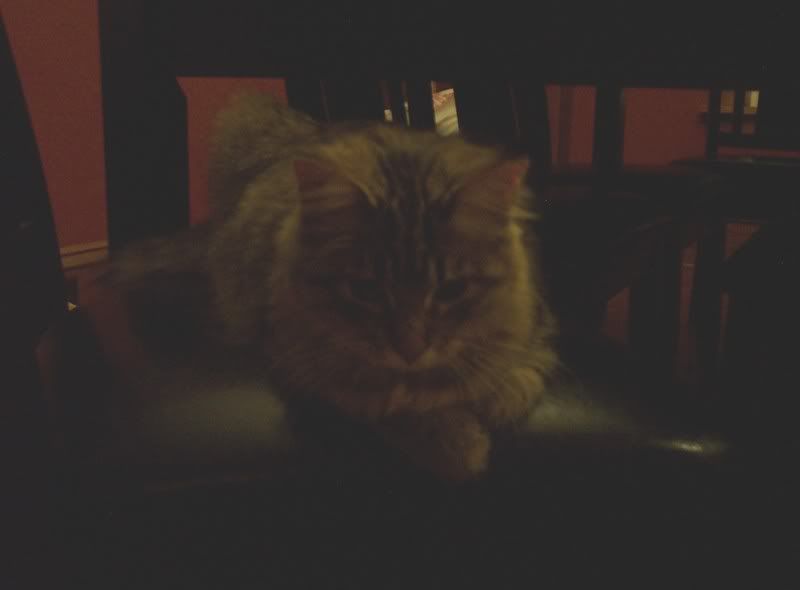 This is Peaches playing his favorite game in the sheets.