Well, we had a really nice week in Florida. I can't say enough good things about the Keys. Except too many other people obviously feel the same way. It was cool and windy all week but still 72 with a 20 knot wind is nicer than 40 with the same and rain. We snuck out on a glass bottom boat tour as taking a 2 1/2 year old out on a snorkel tour is a bad plan. She did put the mask on and look into the water though, its a start! We did a lot of touristy stuff this time around and enjoyed it.
A hawksbill turtle we saw in the tour. They said they have never seen two of them together on a tour before. I didnt manage to get both at once b/c they were moving so fast (as was the boat) but a nice shot of one of them: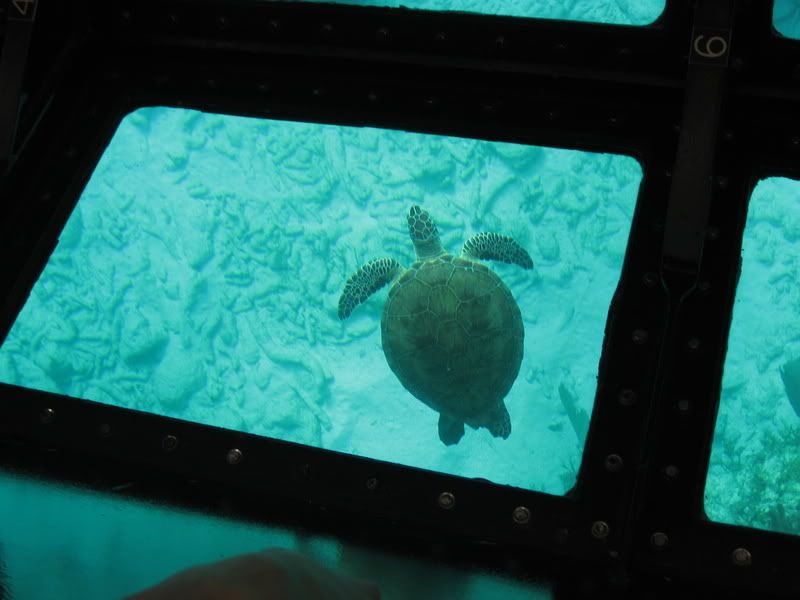 Maeve gets to hold a live sea star for the first time at the Key West Aquarium:
Maeve all ready to do battle with the other tourists on Duval St:
Debbie and Maeve inside the Butterfly Conservatory on Duval:
For folks that have been down there before and hit all the usual places: Hobo's closed their old shack and moved down the road to a pretty generic looking place. Sloppy Joe's is now a young kid bar
I think the girls next to me were probably 15 years old. Hurricane's is now fairly mediocre and very pricey (compared to moderate and really tasty 3 years ago). Their beer is stilll cold though
. More people than I have ever seen there pre-spring break......
The reefs I went to in general arent looking any worse to me than 5 years ago though the few stands of Elkhorn looked like a coral I would be worried about putting in my tank. I guess it depends on where you go, some folks disagree. Water was pretty warm for early March, 72-74 degrees in most nearshore spots I went in, 76 on some of the reefs already.