This is my latest project.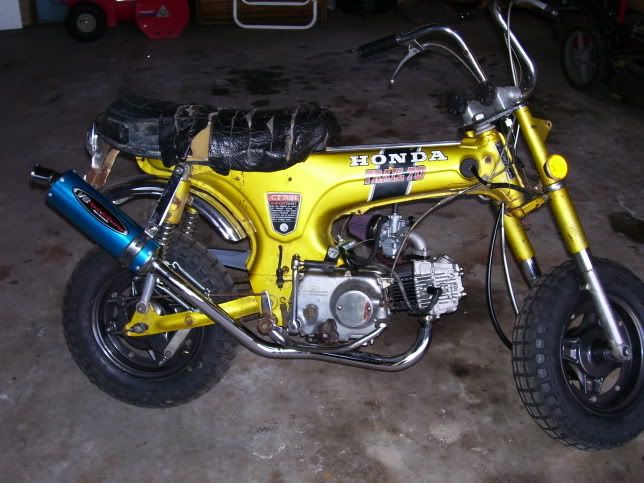 It is a 1972 Honda ct70h. The h model (meaning it is a 4 speed manual clutch transmission) were only made in 69-73 while the 3 speed automatic's were made into the 90's and maybe even still? I know it isn't much to look at but i have the front fender, tail light, head light, and a new seat cover and it will look a lot better after i get that all on. I have been focusing my time on the mechanical side of it. I completely disassembled the engine and even split the case so i could replace first gear and some other misc. parts. I then put in a big bore kit (85cc), a high output oil pump, a performance head, a 20mm carb and 22mm intake, and the performance exhaust shown. Sadly due to a throttle cable problem i can't ride it any yet and i would really like to know what the exhaust and carb size increase added to its performance. It is much louder though.
I have spent at least twice as much as it is worth and sadly there are still some more things to buy. Next winter i plan to paint it. Due to some loop holes in the laws i think i can get it licensed as a moped. It should be a very good time as i expect it will go at least 50mph and they are just fun to ride. Well this has been my latest exporter of money. What all do the rest of you spend your extra cash on besides tanks?